This is not a review of the Apple Watch 3, but notes from my own experience. I hope this will help you to either give in to your curiosity and buy it or give you a good excuse to wait for something better.
"We have one more thing…"
Ever since Apple announced v1 of the Watch (to be proper, Apple capitalizes the word Watch so I'll also do so) back in 2014, I've been curious. But I couldn't shake the feeling of "Why?" – especially since you still needed to have a phone in your pocket! I remember saying to my son, "I'm not paying $349 just to say me from pulling my phone outta my pocket. And the screen it too small by the way so I'd look like a geezer".
Jump to 2017 and now they are talking about a cellular version ie. no need for iPhone. So this thing sounds more interesting – not to mention big daddy here has a few more duckets.
BUT – I live in Denmark, so the local phone companies won't support LTE (the tech behind the phone connection) for the foreseeable future :-/ So still not convinced.
Update: As of 11 May 18, the company 3 is the only provider offering a subscription (In Danish).
So I took the bait (and almost confused as a perv)
Sometime around New Years, I fell over an article announcing that the Watch could detect irregularities in heart rhythm similar to this one which got me thinking. Also, I think one of the kids may have shared something with me.
I also wanted to better track my workouts and was tired of constantly pulling my phone outta my pocket after each set to register it (I use an app to track weight/sets/reps).
Funny story which was awkward at the least and almost criminal: I lifted my phone to measure the sound coming from the speakers. (is it just me or are those things too loud?) I had considered showing the personnel proof that they needed to turn it down. Anyway, apparently I had pointed my phone in the direction of some young hottie who was doing an exercise which required interesting bending, and to anyone else, I looked like I was filming her. I don't think anyone besides me noticed, but once I realized what it could look like, I quickly pocketed my phone not to bring it up again until I was finished.
Having my phone out was not only a pain but was not getting me into trouble.
So I went into the closest gadget store and picked-up a discrete black Watch v3.
How I use it: Fitness watch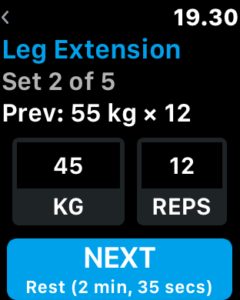 I think it's it's important to make sure you consider what you will be using it for: play music? get notified of emails/text messages? follow stocks? impress your friends?
Mine would be used as a fitness accessory and, let's face it, a toy gadget – everything else was gravy.
Now, when I change clothes to get my gainz on, I leave my phone in the bag. I put in my airpods (oh, yea, these are cool accessories you should consider) and head out. Using the airpods takes a few times to get used to – I was constantly worried they would fall out. The irony was that, with the old-school wired headset, I was constantly getting them pulled out of my ears when I accidentally lifted my arms or walked too close to a machine.
Because of it's size, not all apps work on the Watch so I also made sure the app I use to workout had an Watch equivalent. Now, once I start the app, I can easily adjust the weight lifted and register the sets/reps.
Music is an essential part of the workout. Apple allows you to sync playlists to the Watch which is cool, but there could be more room. The official specs states 8 GB (non-LTE), but when I look at the storage usage it only allows me 5.5 GB – so the OS must take the rest.
In any case I have plenty of music to get through a 2-hour workout.
Depending on where I am in the fitness center, I can still be in range to my phone, which I think is pretty impressive. This means that I can still hear podcasts, get notifications and check the headlines in between sets via my phone…. while it's in the bag in the locker.
So all set with the fitness app and tunes.
How I use it: Health device
One of the best aspects of the Watch is the health info it tracks. Not only does it track my heart rate, but by doing this, it gives me better metrics for the workouts. Now I can more accurately see how many calories I burn and at what time of day.
What's the deal with the circles? It's kinda gimmicky, but all in good fun. Basically you tell it some basic info (gender, height, weight) and it calculates what you should achieve each each day:
Move:  how many active calories you've burned so far
Exercise: how many minutes of brisk activity you've completed so far ("brisk activity" is defined, for me, pulse > 120)
Stand: hours in which you've stood and moved for at least a minute
The rings offer some friendly competition between you and other Watch owners you know. Again, kinda gimmicky and corny, but it seems to work.
Other points
There are several other cools gimmicks (like the Mickey/Minnie faces, getting a nudge while using the Map directions and spying on the kids via Find Friends) which you might find more interesting, but these are worthy of mention:
Water proof?
Is it water proof resistant? Yes, so far. I'm not a distance runner so I don't get the Watch sweaty, but it does need a cleaning every once in a while. I had read it could take some water. So after double checking on Apple's homepage AND watch 3 or 4 YouTube videos… from different people… I slowly hopped in the shower to take my Watch for a dip.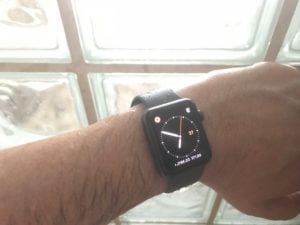 … and it went OK – nothing to write home about. There is this function called Water Lock. Apple states that "When you start a swimming workout, your Apple Watch automatically locks the screen with Water Lock". This allows you to later clear water from your Watch later. "You hear sounds and may feel some water on your wrist."
That's some James Bond shit if you ask me.
I don't know what they do but it's cool. And by the way if you are reading this Mr. Ive, the sound you chose to let me know the Watch is not clear of water is kinda worrying. It reminds me of an old cold war alarm.
Recording
Speaking of James Bond, there are apps out there that let you record – from your Watch. You can't be too sneaky as there is a big red circle while it's recording, but it's less conspicuous than your phone on the table with the mic pointed at the others.
Once your done recording it syncs to your phone to be used later at your discretion.
I'll leave it to you to use or not, but I can imagine doing it at a meeting/training session where the material is difficult and you want to review later. I use it often while driving if I want to capture an idea for an article or business idea.
Mobile Pay (or Apple Wallet)
It works and looks kinda cool (or maybe dorky depending on how it's done), but I usually just pull my phone out.
My problem is that it can take a second or two longer for it to align/sync with the phone and, together with my eyes, I start to fumble and get frustrated. Plus when it doesn't work – even if it's the cashier/terminal fault – YOU look like the bonehead.
Verdict
Well obviously I bought one so I must think it's worth it. But I didn't make my mind up too quickly.
Relatively speaking, I still think it's a expensive gadget (DKK 2.799). And for what I use it for, I could easily settle for something for a third of the price.
But hey, you only live once.
In Denmark we say, "Never come up short due to the equipment". With the Watch, I get a new gadget to fiddle with and get better tracking of my workouts.
But I guess the best part is that now, I won't be suspected of creeping on some girl in the gym while trying to look at my phone.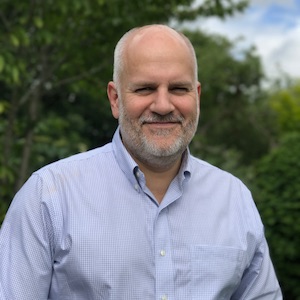 From Tampa, Florida; Moved to Denmark in '92. I'm a serial almost entrepreneur (I have a lot of ideas but tend not to act on them) and work freelance as an IT consultant. I take care of the backend but will write occasionally when Morten lets me. Go BUCS!